The NHABI Method consultancy course on sustainability which covers all ESG areas, comprises five stages and aims to measure and report its achievements to all stakeholders in a transparent way.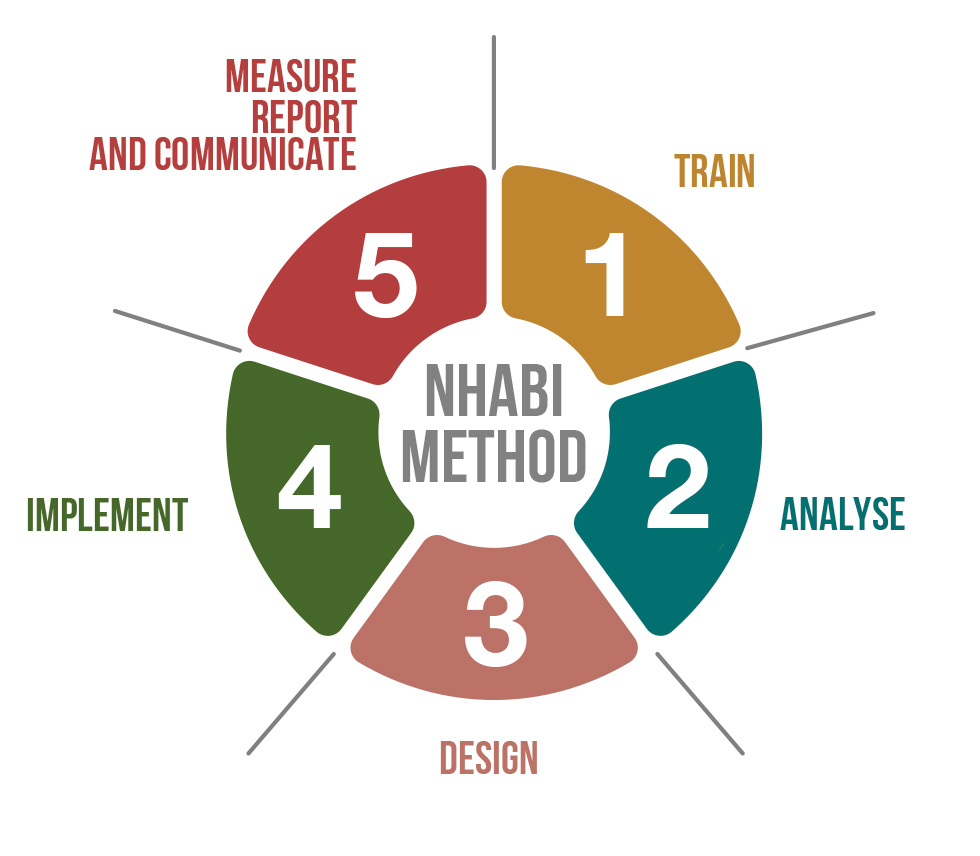 1. Train and inform the company's key resources on sustainability concepts, through customised sessions enriched by analyses of competitors and the target market.
2. Analyse the company's sustainability performance to establish the baseline level in order to increase the integration of sustainability into the business model.
3. Design the strategy and action plan, through the definition of sustainability governance, materiality analysis and stakeholder mapping and engagement.
4. Implement the action plan until the set objectives are achieved according to pre- established indicators.
5. Measure, report and communicate sustainability performance to all stakeholders through the creation of sustainability reports and balance sheets and appropriate communication plans.
The choice of approaching corporate sustainability is voluntary and may be prior to or the result of a certification process.
Sustainability is a key issue for tenders, for all companies that operate within a supply chain and for positioning in foreign markets.
NHABI plus is expressed in a variety of services thanks to partnerships consolidated over time which allow it to offer consultancy in:
Assisted finance
Legal and tax
Risk management
Environmental engineering
Branding
Communication
Marketing
Events
DNF
SUSTAINABILITY ASSESSMENT
STAKEHOLDER ENGAGEMENT
ANALISI DI MATERIALITÀ
REPORT E BILANCI DI SOSTENIBILITÀ
LIFE CYCLE ASSESSMENT
PERCORSI DI CIRCOLARITÀ
ECODESIGN
REPORTING
CARBON FOOTPRINT
CSR
WATER FOOTPRINT
WELFARE AZIENDALE
GOVERNANCE
GHG INVENTORY
CLIMATE ACTIONS
ETHICAL CLAIMS
RISK MANAGEMENT